Monthly Archives:
June 2009
I recently got a new mobile phone, the wonderful Nokia E71.  For the last 3yrs I've been using a Windows Mobile phone.  I'm still waiting for the new HTC Touch Pro 2 to come out in Australia – but until then, I figured a company provided Nokia would get me through.
I have my Nokia paired with my laptop, which I use for work.  Quite often I work at customer sites, and I'm reliant on my own internet connection.  Using internet connection sharing through bluetooth is a wonderful thing, but by default, the Nokia phone keeps asking if I want to accept an incoming bluetooth connection from my laptop.  This can get quite annoying. 
Here's how to get around it, and to authorised a bluetooth paired device, so you don't keep getting prompted on the phone to accept the connection…
Welcome to Universal Language 025 – this months episode is the start of a new era for the series. From now on Universal Language will be a 2hr show featuring a 1hr mix by me, and a 1hr guest mix. Occasionally I will be filling the full 2hr slot.
In this months installment, I am very proud to present a special guest mix by DJ Ange.  This 2hr show, is one not to be missed.
My set starts out with a deep and progressive sound, a little slow, but very easy to get into the swing of it. As I build the set, I play some fantastic new tracks I've discovered. The deep progressive sound is coloured with beautiful vocal tracks. At the half way point, I step things up just a little notch with Wippenberg, as I do a very long blended mix into Dousk's "Greenwater". The Richard Durand remix of the classic "Madagascar" overlays beautifully out of "Greenwater", and I blend it deep into the next track (Forward Motion) featuring the vocals of Marcie. My set finishes off with a beautiful vocal track by Paul van Dyk, Starkillers and Austin Leeds. If you haven't heard this track before, you need to! It is simply one of the best vocal tracks I've heard in a long time.
DJ Ange's set then comes in with a high energy punch, as she plays a massive uplifting set. In her set, she features some brilliant remixes of her own, and her very own productions. This girl has talent, and you need to check it out.
Here's a little info on DJ Ange: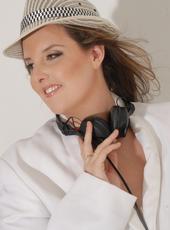 DJ ANGE is a fast emerging female DJ and producer hailing from Sydney, Australia.
Unsurpassable technical skills along with spot on track selection and her ability to read the crowd attributes to DJ ANGE's rise in the global dance scene in Trance, Progressive , Electro & House genres.
DJ ANGE is also a resident in IBIZA during the summer season. In 2008 this included Charlys Angelz – Vicky Devine's brand (Judgement Sundays), Pure Pleasure Experience – DJ Ange's brand, Play2 Nightclub, Eden Rooms, Opium & Orange Corner.
Along with guest appearances at Random – Tristan Ingram's brand (Judgment Sundays), Las Dalias Ibiza Full Moon Closing Party, Hush, Viva, Hussle Eivissa , Garlands Ibiza Boat Party + more
DJ ANGE's debut tracks 'S.E.A.' (released as an E.P. with her track 'Iron Cove' now out on UK label Insight Recordings) is receiving support from some of the biggest names in the dance scene including TIESTO (his 'Club Life' Radio Show and International Podcast – where he spoke personally of her time in Ibiza), ACTIVA, NITROUS OXIDE, M.I.K.E. (Push), SOLARSTONE, ALY & FILA, SIED VAN RIEL, MANUEL LE SAUX, THE VICEROY, TOM COLONTONIO, SUZY SOLAR, TyDi, + more!
While DJ ANGE is now in demand around the world, she began her DJ career achieving success in local Sydney DJ competitions. Since then she has played for many reputable promoters and venues across Sydney including a 2 year residency at Equilibrium. Other guest appearances include gigs at Sublime Sydney, Sounds of Trance, Overflow at The Bay Festival (Adelaide), 3 years running – NYE @ Throb Nightclub, Darwin (Special extended set), Lookin' Good, Civic Underground, Middle Bar, Soulful House Experience (SHE), Club VIP, Clean & Serene, Wham!, ANOT, Le Panic, YU Nightclub, Soho Nightclub, World Bar, Shipwrecked Sydney, Mars Lounge, The Burdekin, Candys Apartment and many more.
Ange's passion for delivering top class tunes to the masses saw her become the founder of the club night 'The Pure Pleasure Experience' which began humbly in 2006. In a short space of time it built a solid name in the Sydney scene. She took the brand to IBIZA for summer 2008 hosting it as a weekly event.
DJ ANGE's gigs have placed her on lineups alongside many talented and high profile DJs including Alex M.O.R.P.H., Rob Marmot (Wonderland, Ibiza), Oliver Lang (Bora Bora, Ibiza), Vicky Devine (Judgement Sundays, Ibiza & BCM Mallorca), Charlotte Birch (UK), TyDi (ITM Top50 1 2008), Tristan Ingram (Judgement Sundays, Random Ibiza), Jason Cortez, Rank 1, Amber D, Gareth Emery, Matt Darey, Lange, David Moreno, Frisky, Lizzie Curious, Abigail Bailey (P.A.), Alex Ellenger (Eden Nightclub, Ibiza), Jon Constantine & Danny Graham (Ibiza Residents), The Dirty Rotten DJs (Judgement Sundays Ibiza), Sean Hughes (DiscoBomb Ibiza), Si Edwards (Garlands Ibiza), Anna Kiss, Laura Brown, Tim Fanucci (Pukka Up, Ibiza), Lloyd Jordan & Jon Allegro (Kanya, Ibiza), Robin Chappell (Orange Corner, Ibiza), Paul Hill (Savannah Ibiza), Miss Divine (La Vita, Defected Ibiza), Marco Loco, (IbizaGroove/Shipwrecked), Jamie Gittens (FilthyGorgeous Ibiza), Joey Fabini (Hustle UK/Ibiza), Amber Savage (Sublime, Sydney), Scott Richardson (Trancetribe Australia), Steve Hill (Frantic),Bexta (Mixology), J Nitti (Vinyl Pusher), La Fiesta Sound System, Alex Taylor, Kate Monroe,Graham Cordery (SHE), Craig Obey, Ben Kelly, Brenden Fing, Kyla Sexton (P.A.), Muma Megs (P.A.) + many more.
DJ ANGE will also be back in Ibiza for the season in 2009 along with a UK & European Tour.
DJ Ange Myspace: http://www.myspace.com/djangemusic
Twitter: http://www.twitter.com/dj_ange
Facebook: Search for "DJ Ange"