This month on Universal Language I feature a special guest mix by Brett James from Adelaide (South Australia for you international types).
The first hour is mixed by me playing some brilliant dance tracks and a few vocal trance tracks that really get you moving. I finally manage to get down some tracks I've been hanging onto for a while. This set finishes up with the Blank & Jones remix of Mr Brightside by the Killers – some people don't like remixed pop songs, some people do. Make up your own mind – but I like it!
The 2nd half of the show is a beautifully smooth Baleric set mixed by Brett James. This blend of spacial chilled sounds, strings, ethnic drums and deep house is sure to please. I couldn't help but get the image of a low setting Ibiza sun, on the beach, a warm Sunday afternoon, cocktail in hand, and just watching the world go by.
Here's the scoop on Brett James…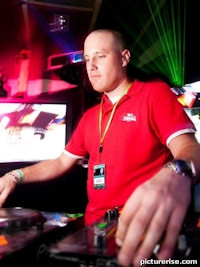 BRETT JAMES HAS BEEN COLLECTING AND SPINNING TRANCE RECORDS SINCE 2000, AND HAS BEEN MAKING WAVES EVER SINCE, AND CO-HOST DJ CONTAGIOUS IS FAST BECOMING ONE OF THE MOST RESPECTED TRANCE DJ'S IN ADELAIDE..
GLOBAL TRANCE NOW AIRS EVERY SINGLE WEEK IN ADELAIDE, BRISBANE, DARWIN, ARIZONA, FLORIDA, NORWAY, TURKEY AND ON NUMEROUS INTERNET STATIONS ONLINE, TO A POTENTIAL AUDIENCE OF OVER 3 MILLION PEOPLE, AND HOST BRETT JAMES, CONSIDERED AS ONE OF THE MOST PASSIONATE AND POPULAR TRANCE DJ'S THE ADELAIDE SCENE HAS TO OFFER..
PLAYING ALONGSIDE, WORKING WITH AND INTERVIEWING ARTISTS SUCH AS PAUL VAN DYK, MATT DAREY, ARMIN VAN BUUREN, RONSKI SPEED, KYAU & ALBERT, PAUL OAKENFOLD, MARKUS SCHULZ, KEN SPECTOR, ROBERT NICKSON, BT, JONAS STEUR, TENISHA AND MANY MORE..
WITH LABEL SUPPORT FROM THE BIGGEST RECORD COMPANIES ON THE GLOBE: ARMADA, COLDHARBOUR, ANJUNABEATS, ANJUNADEEP, VANDIT, MOONRISING, DAREY PRODUCTS, EUPHONIC, LOST LANGUAGE AND LOADS MORE, GLOBAL TRANCE OFFERS THE FRESHEST SOUND OF TRANCE MUSIC IN ADELAIDE WEEK IN, WEEK OUT ..
GLOBAL TRANCE……MUSIC WITH EMOTIONAL INTEGRITY
MySpace: http://www.myspace.com/globaltrance
Facebook: http://www.facebook.com/globaltrance