This show marks the first episode for 2010. I was on hiatus during January while I went on a well deserved holiday. I visited London, New York, Washington DC, Los Angeles, Las Vegas, San Diego and Tijuana. What an amazing trip it was, and it was great to meet so many good people.
In this months show – I am honoured to bring to you a very special guest mix by BeXta. BeXta is one of the most well known names in the Australian dance music industry. I have been a fan of hers for a long time – one of the very first techno CD's I bought had a track of hers on it….and that was 13yrs ago.
Enjoy this mix, and let's look forward to another amazing year of trance music in 2010!
Here is the info on BeXta.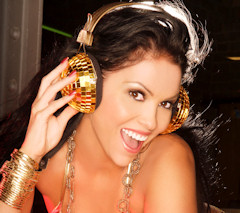 BeXta's career has been a unique and integral contribution to Australian dance music history. Starting in 1993, BeXta was living in Brisbane and played her first live show to 3000 people at the Arena (aka Roxy). Producing and performing live at this time, rather than dj-ing, her talents lay in her energetic live performances and productions. In 1994 she singularly supported Bjork, and began performing regularly around Brisbane, leading to her first single "Lunar Tango" in 1995 with Sirius Music. Lunar Tango received support from Triple J, being played 4-5 times per day for an extended period of time.
In 1995, Bexta completed her Bachelor of Music in Music Technology at the Concervatorium of Music, while her touring schedule was becoming increasingly intense, and by 1996, BeXta played her first Big Day Out Show. To this date, BeXta has played more Big Day Out shows than any other act in the history of the event, the last one being the national tour in 2008. Her biggest audience at the Big Day Out was to 14,000 people and BeXta regards the Big Day Out as some of her most memorable shows.
Things moved on for Bexta in 1997, when she signed with Sony Music, took up djing, and moved south to Sydney. BeXta's track appeared on Sony dance compilations including Strictly techno, and DJ Beats. Her first solo release with Sony was "Questron" which went very well, and a video clip was shot for the track. Her next release with Sony, the "Skirmish Live EP", which was recorded live at one of her gigs. This was released on cd and vinyl, and the track "Make It Phunkee" from the EP became one of the most played tracks at dance events in Oz that year. Make It Phunkee was also released as a single with a video clip, as well as Drum Beets, and Music Makers.
In 1998, BeXta took up a weekly dj residency in Sydney at a club called Plastic, where she exclusively resided in Sydney for many years. Bexta has also started touring nationally, not only with her live shows, but djing also. From that point on, BeXta's touring schedule began to fill up, and now, 15 years on from when she started, BeXta is a weekly traveller, playing up to 3 different cities every weekend of the year.
BeXta has played with and exclusively supported artists such as Hardfloor, Paul Van Dyke, Underworld Fat Boy Slim, Timo Maas, Alex Kidd, the Prodigy, Carl Cox, Basement Jaxx, Ronski Speed, and many many more. BeXta has also toured internationally, playing at places like the UK, Indonesia, China, Malaysia, Noumea, Canada, and New Zealand.
After starting as a live performer and producer, Bexta's fame as a dj in Australia grew. Her ranking on the Australian inthemix top 50 dj poll peaked at number 3 and she is always a dominant figure in these sort of polls. In 2000, BeXta released a double dj mix cd, called Mixology. Now, it is one of the longest lasting dj compilations of that genre in Australia. Mixology is currently in it's 12th installment, and the cd's have become a collectors item.
After visiting the UK in 1999, BeXta was signed up to UK label "Recover", and released a single in 2001, called "One for the Road". One for the Road was also remixed by Andy Farley. The track did extremely well in the UK, becoming a regular on Radio one, and ending up in the Anthems list of 2001 for Radio One written by Judge Jules. It also received a 5 star rating in DJ Mag. One for the Road was re-released again in 2007, with new mixes, when it received it's second 5 star rating.
In 2004, BeXta started her own label, initially called KMA, but later renamed to Mixology Digital Records. The first release on the label was her debut album "Conversations with ones and zeroes". The album went to number 8 on the ARIA charts in the Independent album release category. The single 'Alien" was released from the album, and had a video clip. Since then Bexta has release a swag of her own singles, and signed up other Australian artists, with the goal to promote and encourage other Australian producers, particularly in the hard trance genre.
Bexta has remixed a number of artists, including "The Winner Is" by Southend – the song from the Sydney Olympics which went top 10 in Australia. She has also remixed ACDC, Wavestorm, Vanessa Amarossi, tyDi, Icehouse, and other Australian dance artists. Bexta has also done music in film and television including the movie "Looking for Ali Brandi", tv show "Neighbors" and adds for the RSPCA and Toohey's.
Bexta has appeared on numerous front covers of magazines and had features in countless medias. These include 3D World, FHM, Ralph, Substance Magazine, DJ Mag, J Mag, Groovine, and has featured in every single street music press publication in Australia. BeXta has also appeared on MTV several times, as a guest and a co-host, and also Channel V, and Channel 10's and channel 2's music shows. Bexta has been monthly mix up resident on Triple J more than once, and now has her own radio show, called the Mixology Show, which is broadcast on Slinky.FM and syndicated on Kiss FM in Australia.
Finally, BeXta has embarked on a new project, called Australian Shuffler. After moving to Melbourne in 2006, Bexta became fascinated with the dancing style the "Melbourne Shuffle". Australian Shuffler is an online video Shuffle competition and global community, and brings Shuffle events to venues around the country – not just in clubs but at underage events also. Due to the growing popularity of Australian Shuffler, and the international interest in the Melbourne Shuffle, Bexta is also hoping to take this overseas, particularly Asia, where the dance style is huge.
So with 14 singles, one EP, one album, 12 mix compilations, a weekly radio show, tour support for the biggest in the world, front cover features, and her own label, and dance ventures, this woman of dance stands out as a great contributor to the history of Australian dance, and is on her way to ensuring her international mark is just as bold.
Visit @:
www.bexta.com
www.facebook.com/bextamixology
www.myspace.com/bextaindustries