2010 is looking to be a great year for trance & dance music!  In this episode of Universal Language I have a special guest mix by a local Brisbane DJ – Rich Curtis.  I've known Rich as a name in the Brisbane music scene for a couple of years, and it was a pleasure to have him as a guest on my show.  Rich Curtis has played as different clubs in Brisbane, and most recently at this years Future Music Festival.
This month Rich Curtis brings his funky electro sounds as a compliment to my more upbeat and energetic set.
Here is the info on Rich!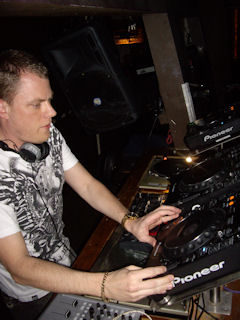 "There are few underground DJs in Brisbane with as good an ear for "big tunes" as Rich Curtis. An honours graduate from the university of epic progressive house as taught by Professors Sasha, Digweed and Cattaneo, Rich has become one of the Queensland capital's most valuable closing slamfest DJs with a relentless approach to his DJ sets; sets built on a foundation of chugging bottom end and rolling percussion but with enough sprinklings of melody to keep music fans shoulder to shoulder with dancefloor junkies in front of him whenever he spins. 
It's Rich's discipline as a DJ which has set him apart from the growing band of aspiring jocks in south-east Queensland through the mid to late noughties. Where many DJs – established, aspiring or otherwise – struggle to piece together one promo mix a year, you can set your watch to Rich turning in two quality mixes every month – always fresh, always epic, and always staying faithful to his sound, which sits at the big room end of progressive and tech house.
Schooled in the art of keyboard, trumpet, guitar and drums, it's hardly surprising that Rich has an affinity with the more musical end of house music. He continues to draw inspiration from the progressive scene's 1990s godfathers, with his endlessly rolling style and music collection very much reminiscent of John Digweed in full flight. So it's appropriate that he's played a pivotal role in bringing some of the other progressive masters to Brisbane, hosting Anthony Pappa on four separate occasions in the last three years (playing back to back with the man early in 2009!) and also providing a leading hand in getting Hernan Cattaneo to Brisbane for the first time ever in 2009.
It was inevitable that Rich turned his hand to promoting, and he's successfully hosted the Ulterior and Embrace nights alongside Steve Woolley from local techno act Dingostyle under the banner of their Ritual Events promotional company. Rich also pushes his sound through residencies at Brisbane's Empire Hotel (for Ulterior), Caloundra's Tonic Lounge (for House Arrest) and Billy's Beach House on the Gold Coast (for Movement), and his skills have regularly been called on to play events like DROP, F**k Fluro, The Sunday Roast and A Night With… at such respected venues as Family, The Met, Barsoma, Planet, Birdee Num Num, Mass (now Magic-City) and GPO across Brisbane.
Since 2007 he's been racking up the quality support slots across the south-east corner of Queensland, playing alongside Pappa, Jim Rivers, Reset Robot (Dave Robertson), Henry Saiz, Hybrid, Kosmas Epsilon, Dubfunk, Slam, Fergie, Danny Bonnici, Charlie May, Hernan Cattaneo, Chris Fortier, Lee Burridge, Simon Baker, 4 Strings, Vince Watson, Nathan Fake. Ricky Ryan (Can Costa), Matt Rowan & Jaytech, Mind Electric, Mark Dynamix, and Steve Hill among others, and so far on the cards for 2010 Marc Marzenit, Chymera and Sean Quinn.
Combine his increasingly busy DJ schedule with a regular Friday night show on krankydigital.comand guest appearances on JJJ and 4ZzZ radio and you get to understand why Rich Curtis has become such a valuable player on this local scene. His lifelong mission to bring the music is bearing fruit, and his studies at the school of prog are all but complete"
Visit Rich Curtis @:
http://www.ritualeventsaus.com/djrichcurtis
http://www.facebook.com/Rich.Curtis.I?ref=search&sid=605043690.432603183..1
http://www.myspace.com/ritualeventsqld