The best thing about what I do, is meeting new people and getting a chance to listen to their mixes.   Music is something that's very powerful, and it transcend's language barriers, borders, cultures and perceptions.  And that goes across the board, whether it's the freshest trance tracks, rock 'n roll, classical, or cheesy modern pop.  At some level or another, we all have an appreciation for music.
This months show, is such an example of how a broad range of music can be put together to tell a story.  Hot on the heals of my recent 4th Anniversary Mix for Afterhours.FM – my high energy, uplifting and melodic set starts out with a remix by 7 Skies (who was a previous guest right here on Universal Language).  My set progresses through a variety of vocal trance tracks (new and old), and finishes with one of my all time favourite tunes.
DJ Jer brings his talent to the guest mix, by giving us a showcase of what he can do.  Jer's mix of progressive, tech, and trance takes you on a journey through the very latest in electronic music.   If you're after something unique, and something you won't hear anywhere else – DJ Jer's guest mix is exactly what you're after.  It's not often a DJ can stand out amongst the rest in their own right, but DJ Jer, is one such person you need to keep an eye on.
Here is the info on DJ Jer…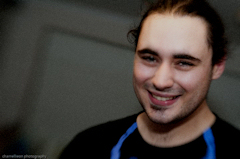 First starting his career as a 'bedroom banger' in his living room for close friends, his parties grew, enticing crowds beyond the capacity of the house.
Evident when you're taken on a journey of emotion of music, Jer has an immense passion for music and people.
Performance opportunities have been key to the development of his skills, and growth of his passions within the music. Gaining experience by mixing it up for festivals such as Winter Solstice 09 (Cairns), dazzling crowds at weekly Drift Meets, a brief residence at Ignition (Brisbane and Sunshine Coast), a residency at one of Australia's top dance music clubs, The Family, and a debut at GPO (Brisbane Valley) have provided Jer opportunities to gain experience reading crowds.
Beginning his musical life in Brisbane early, Jer has been influenced by early 80's rock and metal, – Iron maiden and Guns and Roses to name examples. The energy and power, combined with the melody, a key to his tastes. As his understanding of the stories they told grew, so did his love for depth and emotion in music.
Inspired by the likes of German Industrial Hard House DJ's The Warp Brothers, local DJ's like Nik Fish, Ajax, Baby Gee and Steve Hill; his influences could never be pinned to one genre, and Jer's abilities have grown to cover everything from Psytrance to Electro house, from Tech-Trance to Progressive, even delving into some Happy Hardcore at a time. Close friends with some of Australia and the World's best DJ's/Producers, Jer has been tutored by Brisbane's best, and has regularly attended performances by the worlds finest Paul Van Dyk, Tiesto, Armin van Buuren, Sied Van Riel, Richard Durand, Agnelli and Nelson to name but a few.
This year has already seen Jer do support for Australia's Amber Savage, and he is due to support Brooklyn Bounce(Germany) @ The Family, and spin for crowds @ Creamfields Australia – supporting Marco V, Filo and Peri, Ashley Wallbridge and Tydi.
Jer's wide range of skills and techniques have been acquired by paying close attention to all round him, quickly adapting to changing moods and performing with flawless ease no matter the ambience or audience. His powerful and deeply ingrained passion for dance music can be seen every time he performs, from the house party that epitomises his beginnings to a packed crowd at a nightclub. With opportunities to support some of the world's best coming soon, this year should be one to watch DJ Jer..
And as the story he tells unfolds, it's always a night to remember….
Visit DJ Jer @:
Facebook: http://www.facebook.com/jerry.ginakis
Facebook Fan Page: http://www.facebook.com/jerry.ginakis?ref=profile#!/pages/DJ-JER/103667086336475?ref=ts
Mixes: http://mixes.djfez.com/djs/dj-jer/