This month on Universal Language I feature some great new tracks, and I have a very special guest mix by Santerna.  As usual I drop some melodic and progressive vocals, and I feature a great mashup by Rob Dyer.  My set builds up to 140bpm, where I finish with an old school classic by Chicane.  Santerna brings his deep and progressive sounds to the show featuring many of his own tracks and remixes.  Enjoy this contrast of styles in this month's show!
Here is the info on Santerna….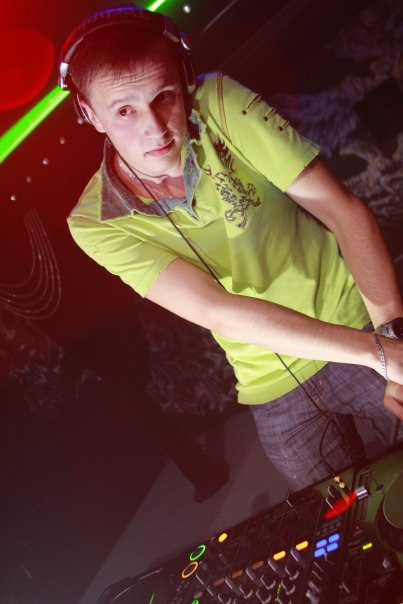 Name: Alexender Devyatyarov
Date of birth: March 12, 1985
Alexander began his career as a musician in his native city – Moscow in 2004. After some years, Santerna found his way in music space, filling his niche with multifarious variations and mixtures in progressive style.
Santerna was the first Russian musician, to have his works released on Mondo Records – one of the world leading labels, oriented on trance and house music. This label, owned by Darren Tate, presents works of such outstanding musicians and DJs as Brisky, Hemstock & Jennings, Adam White, Flash Brothers, Nimmo & Bayer, Kris O'Neil vs D.Kandi, Darren Tate (aka DT8 Project) and many others. Alexander is also known under a pseudonym of Fadelon, under which several tracks were issued on this label.
Santerna presumes that passing everything he does through himself is vital. Only then each work will obtain something unique. That is why having herd his music once, you're likely to never forget it – so intimate, intellectual, tuneful it is. Besides, the sounding is absolutely unique. And these are not all the factors that make his music special.
The first single appeared on August 28, 2006 on German label "Shan Music", owned by DJ Shah and Pedro Del Mar. In that year, Alexander starts performing as a DJ. During just one year, he managed to perform in Barnaul, Ufa, Kirov and twice in Novosibirsk. His special way of serving music compositions, energy and atmosphere of performances are remarkable.
In autumn 2007, in co-authorship with Shifted Reality (a musician from Novosibirsk), the first single record appeared on the "Alter Ego Records" label. The complete title of the single – "Shifted Reality & Santerna feat. Tiff Lacey – On This Day" It included the following works: original track and remixes by Abbott & Chambers and Chad Cisneros.
Santerna`s tracks could be often heard in radio-shows if the best DJs of the planet: The DeepBlue Radio Show presented by Solar Stone, Intelligent Design by well-known Finnish DJ – Mikka Kuisma. Compositions of Santerna frequently appeared in rotation in the programs: Global DJ Broadcast, by the leading world DJ Markus Schulz, Corstens Countdown by Ferry Corsten, and Trance Around The World by Above & Beyond. Alexander`s works are supported by Markus Schulz, Above & Beyond, Solar Stone, Ernesto vs Bastian, DJ Shah, Hawk, Chris Chambers, M.I.D.O.R., Adam White, Dale Corderoy & Darren Tate, Niklas Harding, Jon O'Bir, Ronski Speed, Andy Moor, Matt Darey, Manuel Le Saux and others.
Guest mixes by Santerna have already appeared in such popular programs as "The DeepBlue Radioshow", by Solarstone, "Mellomania" (presenters are DJ Shah and Pedro Del Mar), "Alter Ego Sessions" (presented by Chris Chambers and Matt Abbott), and also in program "The Signs" presented by Volodya Fonar` on DFM.
A debut album "All About Twelve" appeared under a prominent American label System Recordsings in the fall of 2009. A CD-version also appeared under the Russian label Diamond Records.
Now Santerna actively creates new tracks and remixes that appear under various labels.
Santerna is arranging for his new creations to appear under the legendary label Black Hole Recordings in August, 2010.
"Santerna has been releasing a steady stream of beautiful, deep and moody prog trance masterpieces for the last couple of years, he is one of the few producers today that can create analogue emotion in a digital world…"
Solarstone
Facebook:  http://www.facebook.com/Santerna
MySpace: http://www.myspace.com/santerna
Twitter: http://twitter.com/Santerna
Soundcloud: http://soundcloud.com/santerna/
 
Tracklist:
-== DreamensioN ==-
01 – Glenn Morrison feat. Cathy Burton – Symptoms of a Stranger (Jorn van Deynhoven remix) [Morrison Recordings]
02 – Platinum Bullet In The Gun (Ben Gold Remix, Rob Dyer Mashup)
03 – Myon and Shane54 feat. Labworks – Ibiza Sunrise (Original mix) [Armind]
04 – Dido – Everything to Lose (Armin van Buuren remix) [Cheeky Records]
05 – Markus Schulz feat. Justine Suissa – Perception (Super8 and Tab remix) [Ultra Records]
06 – Santerna feat. Marcie – Finding Happiness  (Beat Service Sundown Dub Mix) [Neuroscience Deep]
07 – Max Graham feat. Ana Criado – Nothing Else Matters (Aly and Fila remix) [ReBrand]
08 – Inertia – The System (Tyas and Colontonio mix) [Discover]
09 – Arnej – The Day Will Come (Sied van Riel remix) [Armind]
10 – Redsound – Walking On The Beach (Original mix) [Blue Soho Recordings]
11 – Chicane – Lost You Somewhere (Heliotropic mix) [Xtravaganza Recordings]
–= Santerna ==-
01 – Shant – Garinet (Juan Deminicis House Mix) [Per-vurt Records]
02 – Triangle Sun feat. Santerna – Beautiful (Santerna Progressive Mix) [Black Hole Recordings]
03 – Pablo Acenso – In Bold Letters (Original Mix) [Per-vurt Records]
04 – Astrid Suryanto – Distant Bar (Gutterstylz Vox Mix) [Morrison Recordings]
05 – Ansis Zvirgzdins – Gate 1 [Arrival]
06 – Dapple Apple – Cognac 1994 (Maori Games Remix) [Arrival]
07 – BT and Andrew Bayer – The Emergency (Dragon Jontron Manufactured Superstars Remix) [New State]
08 – Invisible Sounds & Faruk Sabanci feat. Debbie Digital – In The Summer (Santerna Remix) [Arisa Audio]
09 – ID-ID (Santerna Remix) [Spring Tube]
10 – Santerna feat. Marcie – Finding Happiness (Beat Service Sundown Mix) [Neuroscience]
273mb zip,  320kb quality
Download DreamensioN – Universal Language 040 (/w Santerna Guest Mix)