Every now and then, you hear a story about someone who finally got to work with someone they looked up to.  Actors who get to work with screen legends they watched as a kid.  Software developers working with lead developers from multinational companies.  Junior scientests working in teams headed by leading worldwide recognised physicists.
Well this month's show is one such moment for me.  My interest in electronic music started at a very early age, listening to Jean Michael-Jarre in the mid 1980's.  It wasn't until the late 1990's that I fell in love with trance music; and at the time – Binary Finary were the hottest thing.  Their tracks and remixes were one of the driving forces that deepened my interest in the genre.  Their legendary track "1998" and subsequent "1999" and "2000" tracks are classics, still generating the same energetic lift as they did 10 years ago.
So it is with much pleasure (and a bit of a schoolgirl giggle) that I present in this months show, a special 1hour guest mix by Binary Finary.  Enjoy that guest mix, after a one hour mix by me.
Here is the info on Binary Finary: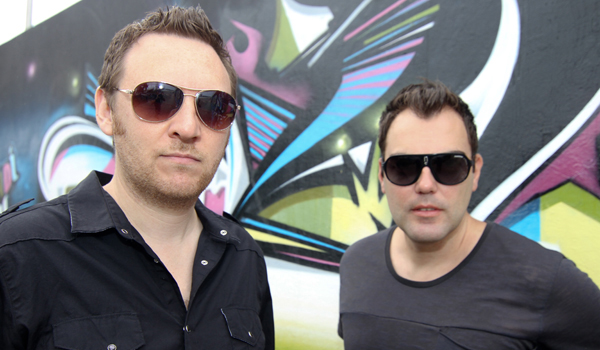 Binary Finary, the act responsible for one of the most seminal dance tracks of all time, is back in 2010 armed with an explosive and very unique new LIVE act and a load of fresh material.
On NYE '01-01-10' the Binary Finary 2010 Live Act was unleashed to a sold out crowd at ID&T's 'Ocean of White' Sensation in Melbourne.
The Live debut treated the privileged crowd to a real-time performance of their latest tracks, previews of their forthcoming release, and new twists on classics including their phenomenal No.1 hit '1998'.
Click for footage of Binary Finary 2010 Live at 'Ocean of White' Sensation NYE 09/10
Binary Finary 2010 Live is performed by Australian based Stuart Matheson with Sasha Vatoff joining him on stage as a DJ/Live Performer, while Matt Laws stays studio bound in Ireland supporting the production and mastering side, and enabling the live show to be packed with fresh material even while touring.
They combine creative, technical and musical talents skills and embrace the latest technologies to form a full live show, and using an impressive technical set up not before seen or heard in the trance arena to create a unique mix of old and new material which differ with each performance.
On April 19th 2010, Armada Records will release a 2010 remix of '1998'.
Hot on its heels will be releases of tracks 'Isle of Lies', 'Banker' and their remixed version of Southend's 'Take Me Up', with more due to be offered throughout 2010.
Stuart and Sasha will also be playing a selection of traditional DJ style sets.
The History – '1998' to 2010
Binary Finary shot to fame after their track '1998', with that killer riff became the first electronic dance trance to enter the UK Top 30. It subsequently climbed to Number 1 and a decade later is still one of the greatest uplifting trance tracks ever to hit dance-floors.
Binary Finary took a break in 2000, however three short years later Stuart found him newly inspired by the rise of software synths and reunited with his music parnter Matt Laws to undertake a tour of Europe which ended in the release of a digital-only album called "The Lost Tracks", incorporating just a small selection of songs never before seen or heard.
Binary Finary are currently on touring with the Future Music Festival around Australia, catch them live @:
5th March 2011 – Doomben Racecourse, Brisbane, QLD
6th March 2011 – Joondalup Arena, Joondalup, WA
12th March 2011 – Randwick Racecourse, Gate 1, Alison Rd, Randwick, NSW
13th March 2011 – Flemington Racecourse, Flemington, VIC
14th March 2011 – The Garden of Unearthly Delights, Rundle Park, Rundle St, SA
More info @ http://www.futureentertainment.com.au/futuremusicfestival/
Tracklist:
-== DreamensioN ==-
01 – Markus Schulz – Future Cities (Intro mix)  [Coldharbour Recordings]
02 – Aruna with Mark Eteson – Let Go (Who is remix)  [Anjunabeatas]
03 – Shogun – Star Line (Original Mix)  [S107 Records]
04 – Whiteroom feat Amy Cooper – Someday (Orjan Nilsen remix)  [SoundPiercing]
05 – DNS Project vs. Tucandeo – Second Lockdown Chapter (NCS Project Mashup)
06 – Mike Foyle pres Statica – Head Rush (Original mix)  [Coldharbour Recordings]
07 – Dash Berlin feat Emma Hewitt – Disarm Yourself (Dub mix)  [Aropa Recordings]
08 – Norin and Rad – Always A New Day (Original mix)  [Coldharbour Recordings]
09 – Sequence 11 feat Aliciya Angel – Until We Meet Again (Afternova mix)  [Abora Recordings]
10 – Binary Finary – 1998 (Paul van Dyk mix)  [Positiva]
–= Binary Finary ==-
01 – Jordan Suckley- Amar la vida (Original mix)
02 – Robert Gitelman – Baja Tribe (Jumper Mix)
03 – Costa & Edu –  Cold State (Original Mix)
04 – Marcel Woods – Champagne Dreams (W&W Remix)
05 – Paul Miller vs Ronald de Foe – Forfiter (Raneem Remix)
06 – Ron van den Beuken vs T.O.M. feat Hadassa – The Voice Inside (Jonas Stenberg remix)
07 – Smart Apes and Amex – Silent Wave (Marc Simz Remix)
08 – W&W – Alpha
09 – Baltic – Moon Dust (Original Mix)
10 – Nic Chagall – Monday Nar (Original Mix)
11 – Binary Finary & Trent McDermott – Freedom Seekers (Arctic Moon Remix)
272mb zip,  320kb quality
Download DreamensioN – Universal Language 045 (/w Binary Finary Guest Mix)