In this months' edition of Universal Language 053, I replay a guest mix I did for Duality 002 with April Elyse Martin and Fura. This 1hr mix from me starts off with the taste of melodic house, which blends into breaks. From there I start to increase the pace a little, and I end the set with some two new remixes of some old trance classics.
Blighty returns to the show this month for another guest mix. Blighty dominates the second half of the show with this beautiful, uplifting and melodic choice of tracks. This is definitely an hour to be enjoyed.
More about Blighty: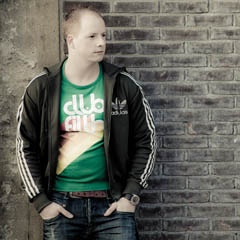 The story….
 If you are into quality progressive-trance than you have probably heard of Blighty. This Nijmegen born DJ / Producer, whose real name is Vincent Steine, has been active in the field for many years now. He has already established himself as a popular DJ at many events and festivals including the UW-XP parties, Arise, Love For People and Club Mystique. He was also invited to perform at an outdoor event in Gjovik and a club night in Oslo, Norway.
 Vincent hosts a monthly radio show "Reaching Out" on both Afterhours.FM and Trancesonic.FM and is frequently asked to do guest mixes for big radio stations, like SLAM.FM, a Dutch dance music station.
 His upcoming remix of "Tokyo Sunset" by Bassfinder and his track  "Kärlek" on Swedish label Macarize are his next big steps in Electronic Dance Music world.
 Production wise Vincent works collaborates with producers Hans Peeman and Daniel Leseman. They are planning to release more quality music in the near future so look out for those!
Tracklist
-== DreamensioN ==-
01 – Chantola – Ibiza Soul (Original Mix)  [Bonzai Progressive]
02 – Hush – Think (The Hush Vocal mix)  [Bedrock]
03 – Stan Kolev – Water Of Life  [Unreleased Digital]
04 – Colombo – Summit  [iBreaks]
05 – Nash and Pepper presents Ostrega – First Scream (Mike Foyle remix)  [Armada Music]
06 – Dakota – Tears (Protoculture remix)  [Armada Music]
07 – Zombienation – Kernkraft 400 (Chris Schweizer Bootleg Mix)
08 – Alex Kunnari – New Life  [In Trance We Trust]
09 – Tucandeo – Galatea (Original mix)  [Infra Progressive]
10 – Armin van Buuren – Blue Fear (Orjan Nilsen Remix)  [Armada Music]
11 – Tilt and Paul van Dyk – Rendezvous (Orkidea remix)  [Solaris]
-== Blighty ==-
01 – Eximinds – Still remember (Intro Mix) [Macarize]
02 – Allan V. – A stranger to my yyes (Original Mix) [Macarize]
03 – Eximinds – August (Original Mix) [Macarize]
04 – Audible – Summit (Miss Nine Remix) [Macarize]
05 – Maywave – Feel me (Original Mix) [Alter Ego Progressive]
06 – Bassfinder – Tokyo sunset (Blighty Remix) [Macarize]
07 – Heatbeat – Arganda (Original Mix) [Captivating]
08 – Omnia & IRA – The fusion (Original Mix) [Coldharbour Recordings]
09 – ID – ID (ID Remix) [Macarize]
10 – Rex Mundi – Opaque (Original MIx) [Coldharbour Recordings]
11 – Ferry Corsten – Check It Out (Kyau & Albert Remix)
292mb zip, 320kb quality
Download DreamensioN – Universal Language 053 (with Blighty guest mix)