In this edition of Universal Language, fellow Australian DJ Costa Mappis hits the guest mix.  His upbeat and energetic set compliments my more mellow and melodic set.  Enjoy this special 2hr show.  Grab the mp3 now!
Info on Costa Mappis is below….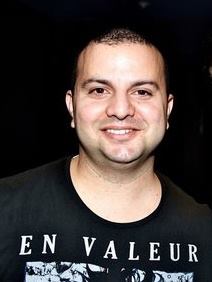 Costa Mappis has always had a passion for EDM. In his earlier years it was happy hardcore. Then in his late teens it was hard house and NRG but now the love of his life is Trance. Anything ranging from 128bpm progressive to 140bpm uplifting bangers. It was only a few years ago when I decided that listening to music was not enough. I wanted to be creative. So I invested in his some CDJs and a mixer. An opportunity arose to support Above & Beyond on their recent Group Therapy tour. The competition was to submit a 30 min mix. I decided to enter it for a bit of fun and to my amazement Jaytech chose my mix as the winner. To be able to support Above & Beyond as my first gig was something I will never ever forget. Since then I have supported Mat Zo, Jaytech, Kyau & Albert, Solarstone & Roger Shah. There have been various guest mixes on Nova's Next Gen show, BAM radio and Afterhours.FM. It all happened so quickly but it's been lots of fun.
Facebook: https://www.facebook.com/costa.mappis
TRACKLIST
-== DreamensioN ==-
01 – Morvan – Anima (Intro Edit)
02 – Solarstone – The Calling (Ram remix)
03 – Talla 2xlc vs Paul Miller – Extravaganza (Paul Miller mix)
04 – Juventa – As You Are (Marc Simz remix)
05 – Tee-Ex – Luminosity (Original mix)
06 – Sonic Element – Amenity (Original mix)
07 – Decca T feat Danny Claire – Say Hello (Undercontrol Dub Mix)
08 – Insigma – Open Our Eyes (Alex M.O.R.P.H remix)
09 – Lissat and Voltaxx – Dreams 2012 (Original mix)
10 – Solarstone – The Calling (RAM remix)
11 – Randy Boyer vs Armin van Buuren – Afterglow Shivers (Heatbeat Mashup)
–= Costa Mappis ==-
01 – The Thrillseekers feat Stine Grove – Everything (Club Mix) [Adjusted Music]
02 – Tilt – No Other Day (Tilt's Century Remix) [Lost Language]
03 – Jorn van Deynhoven – Headliner (Original Mix) [A State Of Trance]
04 – Full Tilt feat Kat Norbergen – Letting Go (Jorn van Deynhoven Remix) [Subculture]
05 – Daniel Kandi pres Timmus – Symphonica (Original Mix) [Spinnin Bundles]
06 – Eco – Tonight Is Forever (Martin Roth Edit) [Armada Music]
07 – Angry Man – Synthetic Fury (Original Mix) [Perfecto Fluoro]
08 – Bryan Kearney & Indecent Noise – Uncommon World (Original Mix) [Mental Asylum Records]
09 – Paul Oakenfold – Come Together (Original Mix) [Perfecto Fluoro]
10 – Claudia Cazacu – Cafe Del Mar (Claudia Cazacu's Couture Mix) [Couture]
275mb, 320kb quality
Download DreamensioN presents Universal Language 057 (with Costa Mappis guest mix)