This month on Universal Language, I've got a special guest mix by Tranceducer.  His amazing guest mix comes up after a 1hr mix by yours truely.  Here is the scoop on Tranceducer….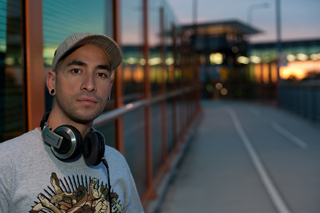 Programmed with a deep musical passion, diligent drive and natural manner, Tranceducer is highly regarded throughout Australia's dance music industry. Tranceducer's dedication to share music that thoroughly fulfills and surprises has him regularly included on Queensland's biggest dance line-ups. Adaptable to any environment, Tranceducer regularly appears at the finest clubs and festivals and has held his own when supporting many international dance legends. As well as a constant gigging schedule, 2012 sees the conductor enter the studio to craft his own dance floor ammunition. This will see him armed and loaded to execute his primary function: converting musical energies into dance floor focused sets of techno, trance, tech-house and darker progressive house.
Trent, aka Tranceducer, grew up in Brisbane and has been active in the dance music scene since the early 90's. He started DJing at the age of 16 and quickly emerged into the local scene. Fast Forward to 2012, with over 10 years experience, Tranceducer has played from vinyl through to digital covering many styles including (but not limited to) trance, techno, psytrance, house, progressive, and hard-trance. This diverse range combined with Trent's adept abilities behind the decks have seen him play many favourable events (Future Music Festival, Stereosonic, Godskitchen, Creamfields, Gatecrasher, Liberate, Mayhem, Advent'Jah, Earthcore, Earth Frequency Festival, Secret Sessions, Southern Oracle etc) and venues (Family, The Met, Monastery, Electric Playground, Platinum, Empire and Barsoma amongst others).
In addition to this array of experience, Trent has also been involved in organising and promoting Lemon & Lime events with partner in crime Dan Burke as well as other events such as Elements, Secret Sessions, Ignition, Rubiks Cube and a string of other sponsored events via his other business – Virus Light & Sound.

https://www.facebook.com/Tranceducer
https://www.facebook.com/djtranceducer
Tracklist
-== DreamensioN ==-
01 – David Broaders vs. Cathy Burton with Above & Beyond – Reach Out To Special Moments (Contagious Mashup) [Intro Mix] [CDR]
02 – Vla-D – Beyond Borders (Adastra Remix) [Motion Beat]
03 – Marian Closca pres. Skyscape – Freezing Amazonia (Original Mix) [Pulsar]
04 – Yahel and Tammy – Life of Your Own (Darma Vox mix) [Perfecto]
05 – Alexander Xendzov – Noosphere (Mike Lockin and Mart de Schmidt remix) [SPX Digital]
06 – Rene Vermont – Spark Of Hope (Original Mix) [Linger Records]
07 – Magnus – Soul Vector (Original mix) [Perfecto Fluro]
08 – Angry Man – Mescaline (Original mix) [Perfecto Fluoro]
09 – Christopher Lawrence – Faith in the Future (Original Mix) [Pharmacy]
10 – Pizz@dox – Abracadabra (Original Mix) [Abora Recordings]
11 – Lange feat Sarah Howells – Out of the Sky (Aly and Fila remix) [Maelstrom]
–= Tranceducer ==-
Tracklist Pending
Download DreamensioN presents Universal Language 063 (with Tranceducer guest mix)