In this months broadcast of Universal Language, I've got a guest mix coming all the way from northern Ireland by Mike Lockin & Mart De Schmidt.  Their fantastic melodic and bassline driven guest mix is after a 1hr session in the mix with yours truely.
Here is the low down on Mike Lockin and Mart De Schmidt…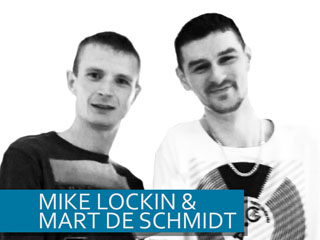 Mickey McLaughlin And Marty Smith a.k.a Mike Lockin & Mart De Schmidt hail from Derry/Londonderry in Northern Ireland, they started out producing music together in 2011, Mike Lockin a DJ and Mart De Schmidt a music producer both shared a vision of combining both their musical styles and preferences to create something of top quality and a unique style of music.
Soon after joining forces, Mike Lockin and Mart De Schmidt got their first EP, Motion Blend signed to Cancun and have released several other singles and EPs since then. Most recently Mike & Mart have signed their new EP "Vectorscope" to Mondo records, a 3 track EP that is getting allot of international support within the music industry including W&W, Manuel Le Saux, M.I.K.E & Giuseppe Ottavianii. Mike Lockin & Mart De Schmidt have support from DJs, Music producers and fans from all over the globe and have gone from strength to strength. They continue to produce top quality music and will continue to do so…
Facebook – https://www.facebook.com/mikelockin.martdeschmidt
Soundcloud – https://soundcloud.com/mikelockin-martdeschmidt
Beatport – Mike Lockin – http://www.beatport.com/artist/mike-lockin/233892
Beatport – Mart De Schmidt – http://www.beatport.com/artist/mart-de-schmidt/233893
Tracklist
-= DreamensioN =-
01 – Morttagua – The 10th Planet (Original Mix) [Uplifting Music]
02 – Upward Motion Project – Morning Sun (Alexandria Remix) [OvertMind Records]
03 – Above and Beyond – Walter White (Original mix) [Anjunabeats]
04 – Yilmaz Altanhan – Eighties (Ozgur Can Remix)
05 – Fady and Mina – Kepler 22 (Andrew Rayel Aether remix) [Armada Music]
06 – Orkidea and JS16 – Hale Bopp [Solaris]
07 – Solis and Sean Truby – Raise the Bar (Original mix) [Infrasonic Recordings]
08 – Paul Oakenfold feat J Hart – Surrender (Protoculture remix) [Infrasonic Recordings]
09 – Rospy – Impatient Glance (Gary Afterlife Remix) [Pulsar Recordings]
10 – Rio Addicts – Crossroads (Original mix) [Armada Music]
-= Mike Lockin & Mart De Schmidt =-
01 – Rex Mundi – Explore Heaven
02 – Project 8 Ft Venga – Memories (Mike Lockin & Mart de Schmidt Remix)
03 – Allen Watts – Tomahawk
04 – Mike Lockin & Mart de Schmidt – ID
05 – Estiva – Dinodrums
06 – MaRLo – The Future
07 – Amir Hussain – Catharsis
08 – Ferry Corsten – Diss!
09 – Mark Sherry & 2nd Phase – Venomous
10 – Will Atkinson – Deep Impacty
Download DreamensioN presents Universal Language 065 (with Mike Lockin and Mart De Schmidt guest mix)