This month on Universal Language, DJ Jer takes over my time slot for a special tech-trance guest mix.  Jer smashes it out in this epic mix so be sure to check this out!
Here is the info on DJ Jer.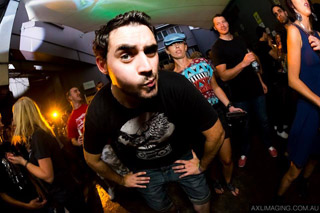 Jer is an Australian DJ based in Brisbane. With a residency at one of Australia's leading Trance/EDM club's and Podcast requests from around the world, he's fast rising up the ranks locally and globally!
A true chameleon of the scene, Jer has been in and around dance music in Brisbane for nearly 9 years, continuing to adapt, craft, and spin his stories.
Having held a residency at Family – one of Australia's leading night clubs- spinning alongside the famed Friday @ Family crew, done guest mixes and pod-casts for internet radio stations like Afterhours.FM, and trecked out bush for Psytrance parties – he's been everywhere.
For Jer, a passion for energy and melody underlies a strong push for dance-floor ready tracks.
His sets are calculated, programmed, intelligent musical monsters, and they're ready to rock any dance-floor.
From the house parties that epitomize his origins, to the thumping clubs he graced for over 2 years, and extending to the hidden oasis' of the Australian bush – Jer has a passion for music that crosses borders, melds genre's, and his true skill lies in being able to tune into that tribal, animal instinct that makes you want to dance!
Jer's list of gigs spans the spectrum of venue's he's played at, from Winter Solstice in Cairns of '09, to numerous support slots for Friday @ Family, Creamfields Festival (Brisbane), The Step-Inn (Elements, Deep Space Ent.), Elbows Out, Telepathic and there's plenty more opportunities to see him spin coming soon.
Artists Jer has supported so far…
Amber Savage, Brooklyn Bounce, BeXta, 4 Strings, Marlo, DJ Frost (ADE) , Dr Willis, Ummet Ozcan, David Forbes, Tranceducer, Baby Gee, Dynasty (QLD), Friends and Enemies (F&E) (QLD), TyDi, Angus Gibbins, Marco V, Filo and Peri, Ashley Wallbridge, Talpa/The Riddler, Positive Thought, Strange Planet, Sun Control Species, Digital Divide, Neelix and heaps more.
Jer has also done guest mixes for Afterhours.FM, Tanz.FM, The Global Trance Angels, Universal Language with DreamensioN – and is the mixing machine behind projects like: TranceMastery, TranceMastery Hard, The Psytrancin' Volumes (now Psysmic Sessions), The Goa Chronicles, Psygressive Sessions and more!
Get the latest sets here:
http://mixes.djfez.com/djs/dj-jer/
Follow Jer on Soundcloud here:
http://soundcloud.com/jermusic
~~~Jer.. mixing from the heart – for the dancefloor!~~~
Tracklist
01 – Above and Beyond – Hello (Original Mix)
02 – Ilan Bluestone – Elysian (Original Mix)
03 – Rafael Frost – Oxygen (Original Mix)
04 – Oliver Smith – Evermore (Original Mix)
05 – Ilan Bluestone – Big Ben (Original Mix)
06 – Soundprank – Gemini (Original Mix)
07 – Jaytech – Earthbound (Original Mix)
08 – Vitodito – Madrid (Original Mix)
09 – Anry Rise Up (Original Mix)
10 – Jaytech – Entropy (Original Mix)
11 – Kamil Esten – Aquatica (Original Mix)
12 – Jordan Suckley and Paul Webster – Help (Future Disciple Remix)
13 – Andy Moor – Fade To Light (Ecomix)
14 – Meridian – All In (Original Mix)
15 – Monoverse – Kheira (Original Mix)
16 – Lange feat. Cate Kanell – Fireflies (Ronski Speed Remix)
17 – Richard Durand – Blast (Original Mix)
18 – Narayana – Sawtooth (Original Mix)
Download DreamensioN presents Universal Language 071 (DJ Jer TranceMastery Special)